Electric Fencing Conductors
In its simplest form the conductor is a strand of galvanised steel wire. However due to the different demands required from a conductor, the range of electric fencing conductors available is considerable.
Galvanised steel wire is often used for permanent electric fences where cattle, pigs or larger wild animals are the target animal. It is also very cost effective over longer fence lengths. Specialist wire is now available with alloy coatings to reduce power loss over the length of the fence. Plastic coated wire with lines of graphite set into the plastic allow for a permanent electric fence that is safe for horses. Where temporary electric fencing is required, a stranded wire is more appropriate as it is easily dispensed and rewound onto rolls.
Strands of wire are also incorporated into nylon rope or tape. These provide conductors that are flexible, easy to handle, log lasting and are highly visible, a concern in particular where horses are involved. The mixed construction also makes them well suited to horse fencing.
The final form of conductor available is a form of netting that is suited to smaller animals such as sheep. This is generally constructed from nylon line interwoven with steel wire to carry the current. Mesh sizes vary but generally apertures are in the order of 150mmx70mm at the base rising to 150x150mm at the top of the net.
Gallagher categorizes conductor products based on performance, durability and application as follows:
High Tensile Wire & EquiFence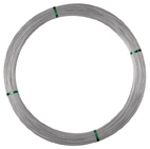 These conductors come with a 10-year product guarantee. In practice these conductors can continue to work for decades without any maintenance. Gallagher's High Tensile Wire and EquiFence are products that have been used to the full satisfaction of profesional users for many years.

---
PowerLine Conductors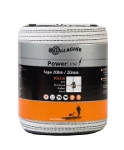 Polywire, tape and rope are available in various colours and lengths. Gallagher recommends to use a PowerLine conductor for fences up to 500mm. Made of durable material and a mix of stainless steel conductors.

---
TurboLine Conductors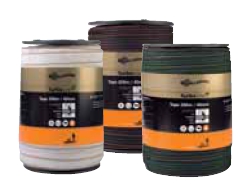 For electric fence lengths in excess of 500 metres Gallagher recommends always using a TurboLine conductor. Available in Turbo rope, Turbo tape and Vidoflex 9, in various colours and several lengths. TurboLine conductors assure you of the best possible conductor, in terms of both the base material and the conducting properties and design.

---
All Gallagher electric fencing conductors are available from
www.wildlifefencing.co.uk
as well as all other Gallagher electric fencing products.
Give us a call, our experienced staff will be happy to discuss your order. We can accept payment over the phone from all major cards and can have your order shipped out to you next day.
Tel:
0114 261 9478
Email:
sales@wildlifefencing.co.uk
Web:
www.wildlifefencing.co.uk