Poultry Electric Fencing
Legacy Habitat supply an electric fencing system specifically designed to control the movement of poultry such as chickens, or for creating small enclosures for chicken grazing.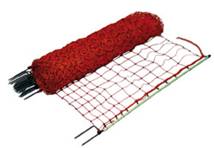 Grazing chickens are known to reduce fertile grass pasture to dry, bare mud in a fairly short space of time. By creating chicken-proof enclosures and rotating their grazing area by moving an enclosure can be an effective way of allowing ground to recover and provide fresh feed for the chickens.
Gallagher Poultry Netting has wire spacing specifically designed to prevent the movement of poultry. The netting incorporates posts, with ground spikes already fixed to the netting. This system makes it very easy to install, the netting can be rolled out on the ground, stood upright and posts pushed straight into the ground. This makes this system very easy to move, particularly useful for creating moveable chicken enclosures.
Each roll is 50m in length and incorporates 15 posts, with ground spikes. Additional lengths of netting can easily be connected together to create a longer fence. The bottom wire of the netting is dead to avoid shorting to ground due to vegetation growth.
An energiser suitable for this poultry netting would depend on how many lengths of netting were connected together. However, for a small system of 100m, the M50 or M120 energisers would be perfectly adequate mains energizers.
More permanent electric poultry fencing solutions can be created using electrified wires at low level, and with narrow wire spacings, fixed to permanent posts with insulators.